yT&A clonong vector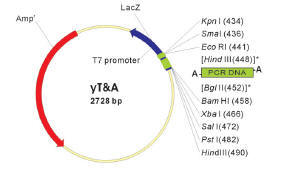 Figure: Map and Sequence reference points of the yT&A cloning vector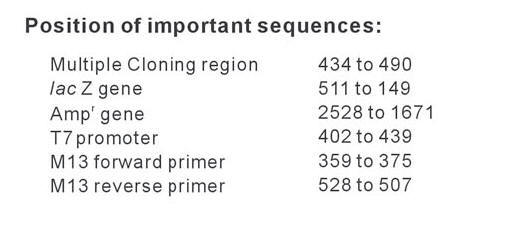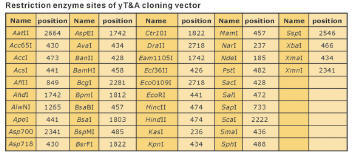 ◆

VC-013
Experimental Data:
The result of ligation using the control insert DNA and reagents provided in yT&A cloning kit.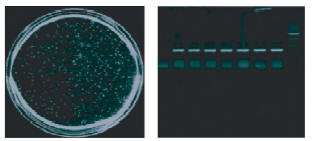 *In this colony PCR, the size of the band on the gel is larger than the insert DNA size by about 150bp.
*Before the insert is incorporated into the yT&A cloning vector, there is only one HindIII site and no Bg/II site. After the incorporation, the T and A nucleotide on the the insert will complement the sequence on the vector and generate these two new site. This merit of yT&A vector makes cloning more economical and convenient.

 
| | | |
| --- | --- | --- |
| 產品編號 | 名稱 | 包裝 |
| VC-013 | yT&A clonong vector,20reactions | 25ng/ul,40ul |

T4 DNA Ligase
◆

BL-1691 / BL-1692
說明 :
T4 DNA Ligase 可催化端點為blunt 及 cohesive的雙股DNA 或RNA 在5'-phosphate 及3'-hydroxyl端鍵結成phosphodiester bonds。可使用在 T-A cloning。
◎儲存溶液:
20mM Tris-HCl (pH 7.5), 1mM DTT, 50mM KCl, 0.1mM EDTA 及50% glycerol.
5X 反應溶液 :包含 Tris-HCl, MgCl2, DTT, ATP (pH 7.8 at 25oC) 及PEG.
◎去活性 :65℃加熱10分鐘.
◎一單位定義 :
0.01 Weiss unit 定義為酵素的量能夠在16°C 20分鐘內催化1ug Hind III 處裡過的 Lambda DNA鍵結超過95%。
◎純度 :無核酸酶殘留被測得
◎其他資訊 :
1.Polyethylene glycol (PEG) 可加強blunt-ended DNA鍵結反應。
2.如果NaCl 或KCl 濃度超過200mM, T4 DNA ligase 將被嚴重抑制。
3.Ligation 反應另外需要ATP及 Mg+2 當輔酶。
| | | |
| --- | --- | --- |
| 產品編號 | 名稱 | 包裝 |
| BL1691 | T4 DNA ligase | 100 unit |
| BL1692 | T4 DNA ligase | 500 unit |