核酸膠體回收器
Gel eluter EXELUTOR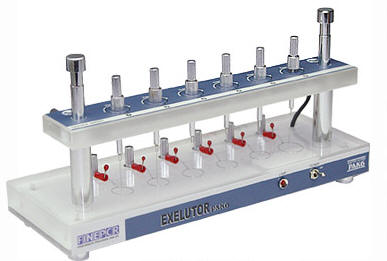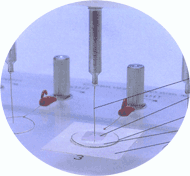 ◆ PAK6
說明:
◎ 適用ds DNA,ss RNA和蛋白質
◎ 可同時操作6個Sample
◎ 可在2~5mins內快速回收膠體中的DNA
◎ 超高回收率可達90%
◎ 使用不需擔心產生污染
◎ 尺寸:W290 × D135 ×H150 (mm)
◎ 重量:1.8kgs

Lift up the top plate and fix it up by the stopping knob.
Control the voltage in the between 20V-40V on power supply. If the voltage is over 50V.
The lamp and electrode could defected
Place the disposable parafilm under the electronic ring.
Turn on the switch
Plae a gel slice on the center of the electronic ring.
Come out small bubbles from gel slice.
Lift the top plate down.
Using UV lamp.

THe DNA corning out from gel slice could be seen

The Electrode
Should be touched on the gel slice.
After 2-4mm. Turn out the swith
Pull the butter out inside the electronic ring enouc\gh to cover te gel slice.
Lift the too Plate
Confirm the swich and the lamp off.
Absorbing the butter by pipe.